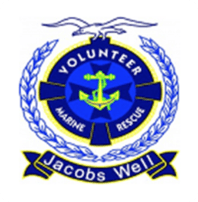 Volunteer Marine Rescue
Jacobs Well
We're open 24 hours a day, 365 days
a year serving the boating public
Become an Associate Member
Become an Active Member
Volunteer Marine Rescue Jacobs Well can be reached 24/7, 365 days a year
VHF Radio 16, 67, 82 | 27MHz Radio 88, 91 | Phone 07 5546 1100
Marine Rescue Jacobs Well operates from Moreton Bay to the Gold Coast Broadwater, the North Arm of the Coomera River, and including the Logan and Albert Rivers, Jumpinpin Bar and Offshore waters east of North and South Stradbroke Islands.
Whilst our primary role is Search and Rescue and providing Queensland Ambulance First Response on the water we also offer assistance with groundings, flat batteries, break downs, out of fuel.
Tell me more
We offer an Extended Service (coverage from Southport to Bribie Island) Associate Membership for $88 per year.*
We are manned 24/7 by VOLUNTEERS and duties performed can mean the difference between life and death.
*Fee increase from 1 Jan 2023: Unfortunately, we along with all other VMR squadrons in SE QLD, have made the decision to increase our membership fees by $10 per year + GST, to contribute to the ever-continuing increased operational costs. The following prices will be applicable for all new and renewing Associate memberships – Associate Member $88pa, Associate Pensioner Member $77pa and Associate Club Member $66pa. This increase will be effective from 1st January 2023.